Types Of Slowdown
Cyclical slowdown
Generally caused due to sluggish demand and unfavorable market conditions. Short termed
Addressed through a monetary and or fiscal stimulus aimed at reviving demand.
Interest rate cuts and tax sops could lower prices of some goods and services and hence help the revival of demand and economic activity.
An economy can overcome this type of slowdown generally through a short-term policy intervention.
Structural slowdown
A structural slowdown is generally caused due to a disruptive change which creates systemic fault lines in the economy.
Technological disruptions causing unemployment or a policy-induced demand slump.
This kind of slowdown reflects on multiple economic parameters.
It has a deeper impact and generally manifests as an across the board slowdown permeating across real and financial sectors.
Besides a slowdown in demand, which could last for a longer duration, there could be an impact on jobs as well as wages, which in turn prolongs the demand slowdown.
Such a situation requires broader set of reforms.
Culture Ministry
Plans to start the "authentic reconstruction" of 11 historic sites.
It is part of a ₹27,000-crore, five-year plan, starting next year.
About a quarter of this will go to the archaeological Survey of India (ASI), marking a nearly sevenfold increase in the budget of the agency tasked with conserving the country's historical sites.
The ministry wants to set up
100 experiential museums on the lines of the Acropolis Museum in Greece,
A national centre for performing arts,
An Indian Institute of Culture (IIC) to provide training in archaeology, museology, conservation and allied fields.
A national-level Jashn-e-Kashmir festival to celebrate the folk art of J&K.
Wait times will be reduced to five minutes from 45 for visitors to 42 monuments. World-class amenities will be provided at600 sites, 50 interpretation centers will be established and 50 monuments will be illuminated.
The ministry also plans to revive and expand the cultural mapping project that was launched by former culture minister Mahesh Sharma by creating an aggregator for bringing together buyers and sellers of indigenous products and services.
It also plans a nationwide talent show,Mujh Mein Kalakaar, to identify children who can be groomed in the performing arts.
A programme is also being drawn up to promote festivals such as Raksha Bandhan, Karwa Chauth, Teej and Bhaiya Dooj, both nationally and internationally, the vision statement said.
Office Account Misuse
Reserve Bank of India has alerted all lenders of instances where 'intermediary' or transitory accounts in banks have been misused to hide bad loans or mask money laundering.
Carry out internal review and submit their findings by October.
Funds often lie for a day or two in intermediary or office accounts opened in bank branches before the money is credited to the actual beneficiary.
A branch manager may dip into suchan account to give unauthorised overdraft facility to enable a borrower to regularise a loan and avoid default before the close of a quarter or the due date for servicing the loan or just before the loan account is about to be classified as non-performing asset (NPA).
Within a day or so the transaction is reversed as the borrower arranges fund to repay the overdraft (OD).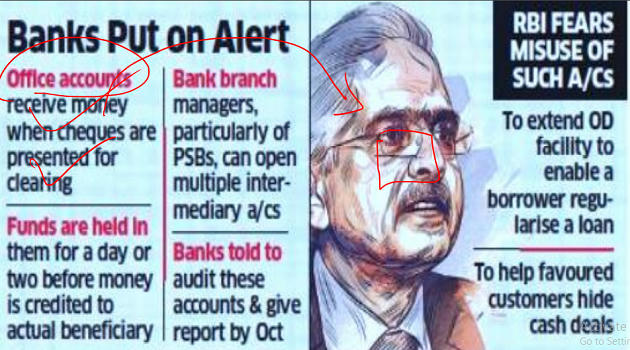 Price Waterhouse
Securities Appellate Tribunal (SAT)quashed the two-year ban on audit firm Price Waterhouse (PW) imposed by the Securities and Exchange Board of India (Sebi) in the wake of the Satyam Computer fraud in 2009.
SAT: Sebi had no jurisdiction to banany audit firm
Sole prerogative of the Institute ofChartered Accountants of India (ICAI)
SEBI's main purpose is to protect investor interestand the measures or action taken by Sebi have to be remedial and not punitive.
In the last few months, many auditors have been taking a cautious approach and resigning from some risky accounts in the aftermath of the IL&FS meltdown.
Insiders say the auditors fear being made a scapegoat by regulators and investigating agencies while promoters and other stakeholders of fraud hit companies go scot free.
Bharat Craft
The government is working on an Alibaba-like e-marketplace for micro, small and medium enterprises (MSMEs).
Direct interface between buyers and sellers
Expected to bring a turnover of around ₹10 lakh crore over the next two to three years.
MSMEs contribute around 29% to the country's GDP.
Govt wants to take this to 50% in the next five years.
Employment to about 11 crore people out wants to take this to 15 crore in the next five years
The government is looking at the MSME sector for its huge potential to generate income and employment, boost exports and its contribution to economic growth.
New channels for funding
Make the sector investor friendly
Bring in technological innovations
Reduce logistics cost to make homegrown products competitive
Provide adequate skilling and market support
Gadkari said that multilateral banks likeADB, World Bank and KfW have agreed to provide low-cost funds for the sector.
Tech Tariffs
Chinese Taipei requested 'dispute consultations' with India at the World Trade Organization (WTO).
Its about duties that New Delhi has imposed on imports of certain information and communications technology (ICT) goods such as phones, amplifiers, digital cameras, base stations, optical fibre cables and electronic integrated circuits.
Chinese Taipei claims India has imposed duties on 11 categories of ICT products in excess of India's bound duty rates for the goods.
Bound rates are the legally bound commitments on customs duty rates, which act as ceilings on the tariffs that countries can set.
The European Union has challenged similar measures by initiating WTO dispute proceedings against India in April.