PSU Disinvestment
NITI Aayog has begun the groundwork for selecting the next set of public sector enterprises for strategic sale and disinvestment.
The Aayog has asked different ministries to recommend the names of the enterprises which can be considered for a strategic sale.
Both ownership and control will be transferred
Govt can opt for strategic deals, in which a minority stake can be sold.
Strategic sectors – defence, banking and insurance, steel, fertilisers and petroleum
The move to push for privatisation on a war footing is in sync with the government's intent to completely exit non-strategic sectors through privatisation or strategic disinvestment.
The government aims to raise Rs 1.2 lakh crore in the current fiscal year through strategic sale and another Rs 90,000 crore from disinvestment of stake in public sector banks and financial institutions, taking the total to Rs 2.1 lakh crore.
The Department of Investment and Public Asset Management, which is the nodal authority under the finance ministry to implement the government's drive to exit non-strategic sectors, is expected to push for the sale of BEML, Container Corporation of India, Bharat Petroleum Corporation and Shipping Corporation in a month which is expected to fetch the government more than Rs 45,000 crore.
Work on the disinvestment in Air India is moving ahead and the government hopes to kickstart the process by December.
The government has identified more than half a dozen PSUs, including NTPC, Coal India and NMDC, for a share buyback — the government will sell part of its shares to the companies through such buyback offers.
Onion Stock Damage
A quarter of the onion buffer stock of 100,000 tonnes is likely to have been damaged due to loss of moisture during storage.
SK Chadha, managing director of Nafed, the state-owned cooperative marketing federation which maintains stocks for central government, said onions have a shelf life of three-and-a-half months, after which they dehydrate.
"We have been buying onions since March-April for the buffer stock. It's been 6-7 months," he said.
He said Nafed had offloaded about 43,000 tonnes of onions in the market, and can release another 22,000 tonnes by the first week of November.
The government has started building buffer stock for onion since last year so that it can intervene in the market when retail onion prices rise.
Onion prices are likely to cool down by first week of November through government's import intervention.
It has relaxed norms for easing imports of onions and asked state marketing agency MMTC to launch bid for importing red onion.
400 Infra Projects Delayed
Delays in land acquisition and green clearance, along with law and order problems, have made as many as 441 infrastructure projects, each worth at least ₹150 crore, run into cost overruns totalling more than ₹4.35 lakh crore.
Ministry of Statistics and Programme Implementation, which monitors infrastructure projects costing Rs 150 crore and above, there are 1,661 such central sector infrastructure projects of which nine are ahead of schedule and 206 are on schedule as on September 1, 2020.
The total original cost of implementation of the 1,661 projects was about ₹20.9 lakh crore but their anticipated completion cost is now expected to be about ₹25.26 lakh crore, which reflects cost overruns of over ₹4.35 lakh crore
The expenditure incurred on these projects till August was ₹11.48 crore, or 45.47% of the total anticipated cost.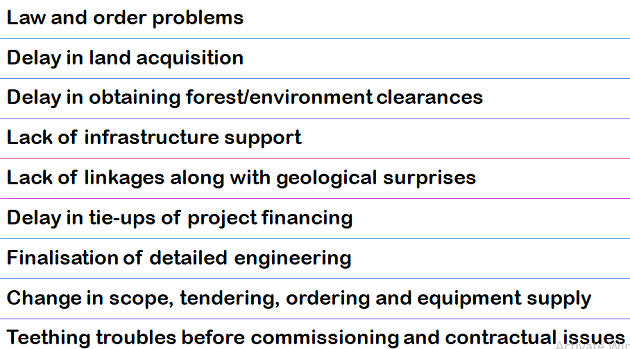 Of the 539 projects, the highest number of delayed projects pertain to railways followed by road transport and highways, and petroleum.
NUE Payments Entity
SBI, HDFC, BoB are set to team up to explore forming a new mass-market payments entity which would compete with National Payments Corporation of India (NPCI) that operates the Unified Payments Interface.
The three lenders have initiated talks to make a joint application with SBI being the lead promoter.
Several other lenders, a large technology firm, a card operator and a few payment network players are also expected to join the proposed bank-led payments consortium.
Under the central bank's New Umbrella Entity (NUE) licence framework, applicants who are given the green light by RBI can own and operate a for-profit pan-India retail payments network.
This will give them benefit of size and they can share cost and benefits.
SBI has a 26% market share in the remittance space, 30% in debit cards and 28% in ATMs.
The state owned bank has plans to leverage its network of 50,000-plus ATMs, 1 million lakh merchants and the YONO platform for the new umbrella entity.
HDFC Bank is the leader in the merchant acquiring business and enables more than 40% of point-ofsale transactions and half of online transactions.
Bank of Baroda, which is India's third largest lender by assets, brings along with it reach, scale and a large customer base.
Entities receiving approval can set up a payments company for owning and operating a pan-India digital payments network, exercising the same powers as NPCI.