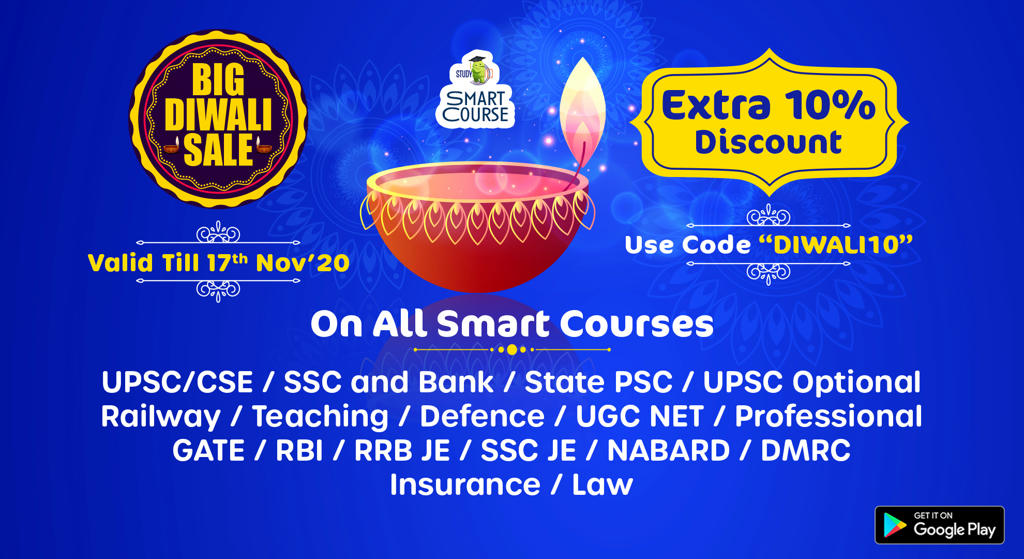 PAN for Foreign Entities
CBDT issued a notification to amend the equalisation levy rules of 2016
CBDT laid down various procedural and regulatory norms, including those on filing returns, demand notices and appeals.
Foreign entities operating ecommerce platforms in India or generating revenue in the country will require a permanent account number (PAN) for paying the equalisation levy imposed from 1 April 2020, apart from having to meet related compliances.
An ecommerce operator that needs to pay the equalisation levy is defined as a "non-resident who owns, operates or manages digital or electronic facility or platform for online sale of goods or online provision of services or both," the notification said.
The government had imposed a 2% tax in the budget for FY21 on the sale of goods or delivery of services through a non-resident ecommerce operator.
Foreign entities such as Amazon (global operations), Netflix, Airbnb, Coursera, LinkedIn and others that offer services in India from outside the country are covered by the levy and will need to comply with the new rules that also include ecommerce operators.
Entities established in India under the Companies Act are exempt and so are those with gross receipts below ₹2 crore from ecommerce operations.
The levy is to be paid every quarter.
The levy won't apply to Flipkart as its ecommerce operations are carried out by an India-registered entity, which is subject to local taxes.
Google, Netflix and Adobe paid the levy earlier this month.
Many companies have not yet paid the levy and had sought clarifications from the government.
The challans for payment of ecommerce equalisation levy were notified in July 2020 and required the PAN and an Indian bank account number.
Business Leaders on PM Interview
India Inc's biggest leaders on Thursday lauded Prime Minister Narendra Modi's interview in The Economic Times.
Government's reform push, detailed policy action on several fronts and big-ticket farm reforms could set the stage for a sharp post-pandemic economic recovery.
Kumar Mangalam Birla, chairman, Aditya Birla Group: "Undoubtedly growth is coming back. 2nd gen reforms in farm, education & labour coupled with infra push sets the stage for a strong recovery."
Sunil Mittal, chairman of Bharti Enterprises: PM has provided strong and decisive leadership during the current global crisis with bold reforms.
Anand Mahindra, chairman, Mahindra Group: "I see this as a comprehensive, planned policy statement. It is arguably the most wide-ranging set of statements on management of the pandemic & post-pandemic economic policy intent issued by any global leader at this time. And, conveniently, you have in one place a listing of all the major reforms undertaken and their objectives. I will give this interview to those investors who ask me about the government's direction. If the government adheres to the goals/policies articulated here and — more important — speeds up their implementation with fervour, the world will knock at India's doors."
Coastal Shipping
Foreign vessels engaged in coastal shipping in the country may need to obtain a licence, besides fully or partially building ships in the country.
The shipping ministry on Thursday issued the draft Coastal Shipping Bill, 2020, proposing changes to encourage domestic participation in the sector.
The Bill proposes making it mandatory for all foreign vessels to obtain a licence from the Director General of Shipping to engage in coastal shipping in India.
The criteria for grant of the licence may include the availability of Indian vessels, the compliance record of the foreign vessel and other factors that the Director General may decide.
Cabinet Decisions
The Cabinet Committee on Economic Affairs (CCEA) has approved higher prices for ethanol produced from various sources for blending with petrol.
The new prices, which are up to 8% more than current rates, will be applicable from December 1 until end of November next year.
Higher ethanol rates will help the sugar industry.
This move will help sugar industry clear pending payments of ₹13,000 crore to cane farmers.
To help millions of farmers and workers involved in jute, a major crop in West Bengal and neighbouring states, the cabinet approved mandatory use of diversified jute bags for all foodgrain and 20% of sugar to help workers and farmers in the sector.
The CCEA also approved two phases of the Dam Rehabilitation and Improvement Project with assistance of the World Bank and AIIB.
Core Sector
India's core sector output recovered in September.
The output of eight core infrastructure sectors was down 0.8% in September from a year ago compared with a 7.3% contraction in August.
The eight infrastructure industries included in the index have a near 40% weight in the index of industrial production (IIP).
Coal
Crude Oil
Natural Gas
Refinery Products
Fertiliser
Steel
Cement
Electricity
This suggests industrial production may swing into the growth zone in September.
During April-September, the core sector contracted 14.9%.
Core sector output shrank for the seventh month in a row in September.
The June number has been revised to 12.4% contraction from 12.9% shrinkage estimated earlier.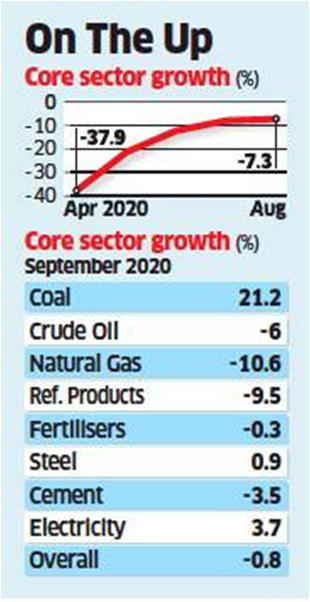 The recovery in the core sector is consistent with other high-frequency indicators such as goods and services tax collection and mobility among others that showed improving economic activity.
Manufacturing PMI in September rose to its highest level in over eight-and-half years to 56.8 while exports grew 5.99% to $27.58 billion in September from the year earlier, after contracting for six months.