GST Math
September 20 Goods and Services Tax(GST) Council meeting
Rate reductions aimed at boostingdemand during the festive season.
Finance Mnistry: wants to estimate therevenue it would lose
Fitment panel: comprises central andstate officials
Fitment panel that examines ratechanges is expected to meet shortly

Among big-ticket consumer items,automobiles, tyres, cement, air conditioners and large LCD televisions are currently in the 28% bracket.
RBI rate cut: 35 Bps
Some say now Govt should take a call
 Link Loans to Benchmarks
Reserve Bank of India (RBI) has made itmandatory for banks to link loans to external interest rate benchmarks.
 Aim: to make transmission of monetarypolicy more effective.
The RBI also suggested a series of ratesthat lenders can choose from as the peg.
The RBI has already cut the policy rateby 110 basis points this year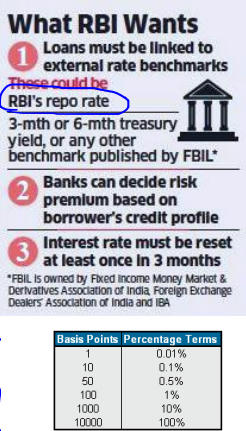 Banking conference last month, Dassaid: the transmission of policy rates at just 29 basis points (bps) this year, compared with a combined repo rate cut of 75 bps (excluding the 35bps cut in August), did not meet RBI's expectations.
India-US Deal
10 Boeing P8I maritime patrolaircraft
$3.1-billion deal to acquire maritimeaircraft for the Navy.
Surveillance capabilities in the IndianOcean Region.
Mandatory clause for at least 30%offsets to domestic companies.
FDI Inflows
Foreign direct investment (FDI) equity inflows rose 28%in the first quarter of 2019-20.
$16.3 billion from $12.7 billion in the year-ago period
Financial
Banking
Insurance
Non-financial/business
Outsourcing
Research and development
Courier
Technology testing & analysis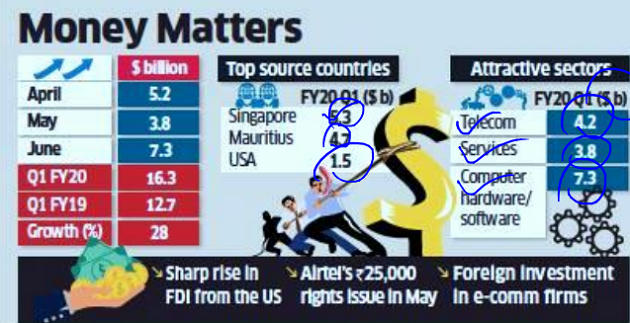 India-bound FDI had dipped 1% to$44.4 billion in 2018-19 from $44.8 billion in the previous fiscal.
This was the first decline in six years.
 While Mauritius does not provide anytax incentives anymore, a lot of investors use Singapore as their regional headquarters
Services PMI Dips
The IHS Markit India ServicesPurchasing Managers' Index (PMI)
 India's services sector activitysoftened in August as job creation and output expansion moderated.
Services PMI: declined to 52.4 inAugust, in July it was 53.8.
Manufacturing PMI: slipping to a 15-month low in August.
The IHS Markit India Composite PMIOutput Index that maps both the manufacturing and services industries fell to 52.6 in August from 53.9 in July.
Govt measures: opening up foreigndirect investment in contract manufacturing, easing norms for overseas investors in single brand retail and coal mining, rolling back enhanced surcharge on foreign portfolio investors.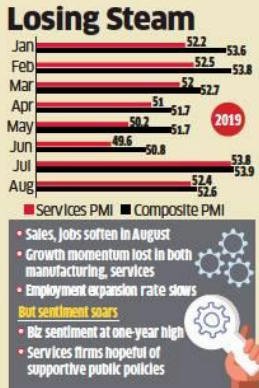 Infra Players
Finance minister Nirmala Sitharaman metrepresentatives from the infrastructure industry.
Aim: to understand issues faced by them
Concerns: pace of execution of projects,lack of investor frinedliness, financing and land issues
This was part of series of sectoralmeetings being held by Sitharaman