RCEP
 RCEP is a proposed regional economic integration agreement among the 10 Asean countries and their 6 free-trade agreement (FTA) partners —Australia, New Zealand, Japan, China, South Korea and India.
47.4% of the global population
 32.2% of the global economy
29.1% of global trade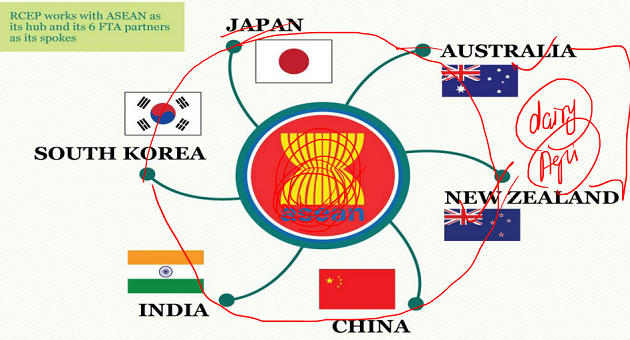 Policymakers will soon take a call on India's position.
 RCEP negotiations began in November 2012.
RCEP negotiations have entered the final stage.
 India's concern is China's dumping.
Various ministries have expressed their reservations.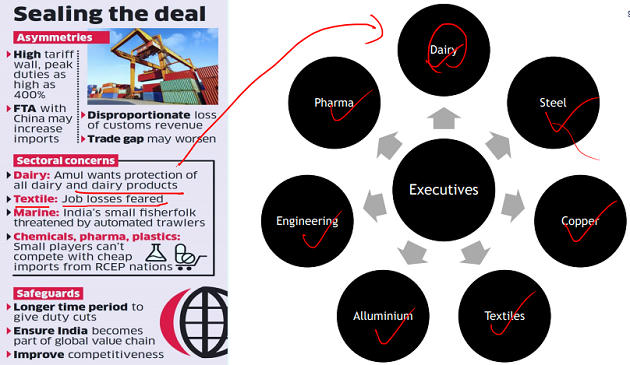 New Delhi had said that an RCEP agreement will be acceptable only if it addresses the existing level of trade imbalance, especially with China.
India's trade deficit with the 16- member trade grouping is $105.2 billion, of which $53.6 billion is with China.
India had then insisted that RCEP negotiations cannot conclude until its demands on duty cuts and crossborder movement of professionals are met.
Especially removal of restrictions by China for its information technology companies.
Experts say India can benefit from the agreement if it has the requisite safeguards in place to secure its interests.
 New Delhi has begun drawing up a list of products on which it can offer duty concessions to the 15 other Asia Pacific member countries.
Goyal is also scheduled to hold bilateral meetings with his counterparts from Japan, Singapore, China, Indonesia, Australia, New Zealand, Philippines, Thailand and Russia.
 Without RCEP, India's integration with fast growing Asia will be