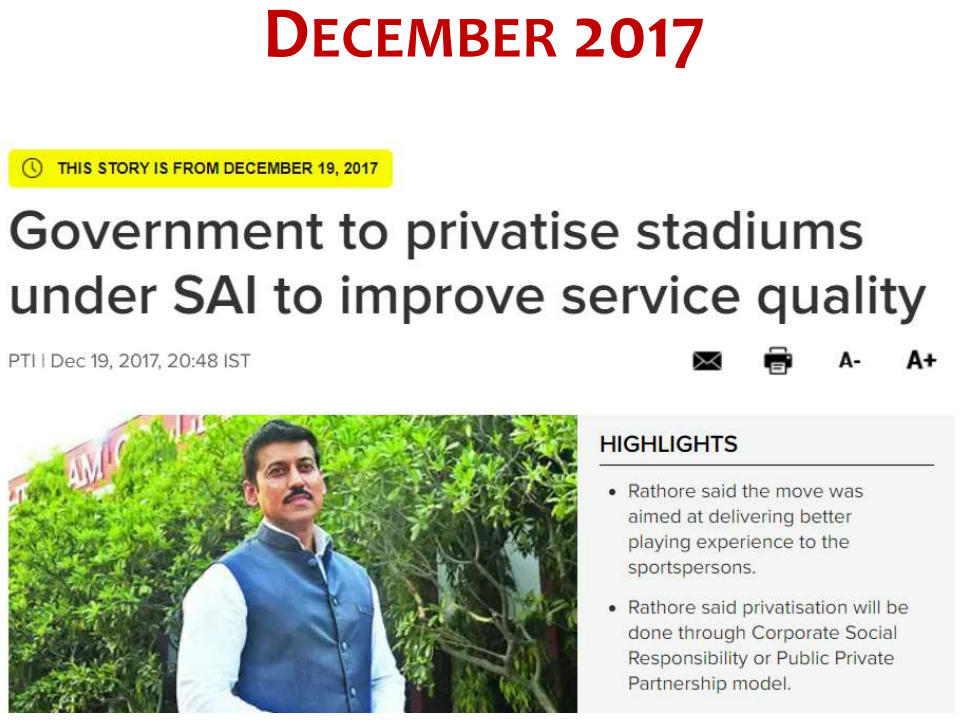 DECEMBER 2017
Rathore said the move was aimed at delivering better playing experience to the sportspersons.

"We are keenly thinking of privatising some of our stadia to have better operations in terms of delivering sports to the sportspersons. There was a general study on how the stadia can be improved. The fact is that there is need to improve the way stadia are administered," Rathore said at a programme.
He said privatisation will be done through Corporate Social Responsibility or PPP (Public Private Partnership) model.
Besides the Jawaharlal Nehru Stadium, the stadiums that fall under the purview of the Ministry of Sports and Youth Affairs include the Indira Gandhi Sports Complex, Major Dhyan Chand National Stadium, Dr Shyama Prasad Mukherjee Swimming Pool Complex and Dr Karni Singh Shooting Range.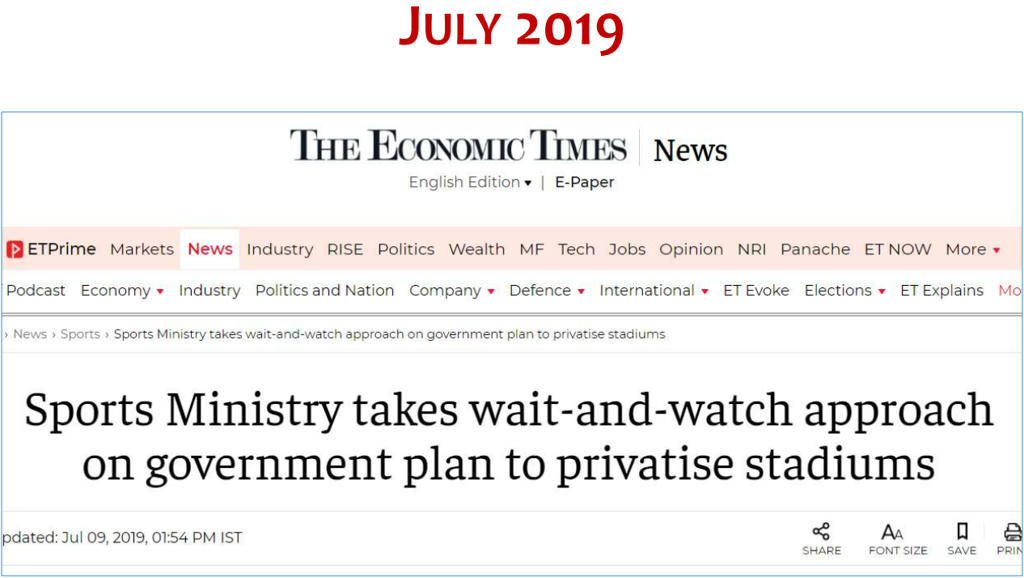 JULY 2019
The Sports Ministry has sought a detailed proposal from the central government (NITI Aayog) about its plans to privatise premium sports infrastructure like the iconic Jawahar Lal Nehru Stadium.
Aim: meeting the highest-ever divestment target of Rs 1.05 trillion
JULY 2019
Issue:
"Yes, one of the members of the NITI Aayog has mooted the idea during a recent meeting but our stand remains clear, we want the stadiums to be utilized only for the country's elite sportspersons," a top Sports Ministry official told PTI.
AIM REMAINS THE SAME
India's famous sports stadiums may soon be leased out to the private sector on a long-term basis as the Modi government looks to aggressively roll out its plan to garner more revenues from its vast physical assets.
The well-known Jawaharlal Nehru Stadium and a few other stadiums in the national capital could be the first to be leased out.
UNDER WHICH MODEL?
"Stadiums could be leased to the private sector by way of an operational and maintenance contract. This could be a long-term contract for 30 years," said an official.
"The private firm will have to make an upfront payment and will then be able to garner revenues by levy of user charges for events held at the stadiums."
THE INCENTIVE
"At present, these stadiums are lying vacant for the majority of the year. A district sports officer has no incentive to ensure that the stadiums are used regularly," the official said.
Another official pointed out that the government may have clauses in the contracts with the private firms to ensure that national and international sports events are facilitated at the sports stadiums.
WHY???
This time around, there is a renewed push for asset monetisation in the Union budget.

BUDGET 2020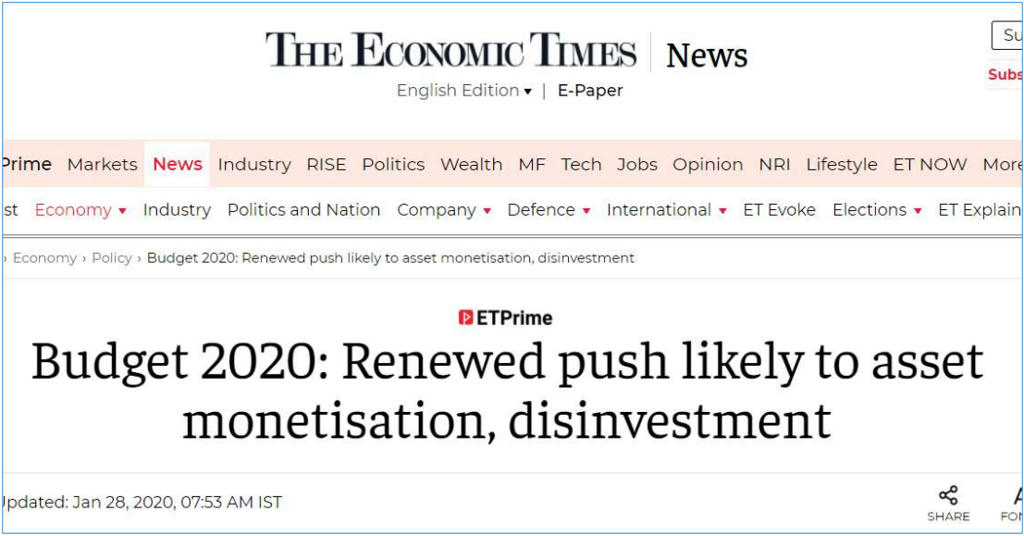 BUDGET 2019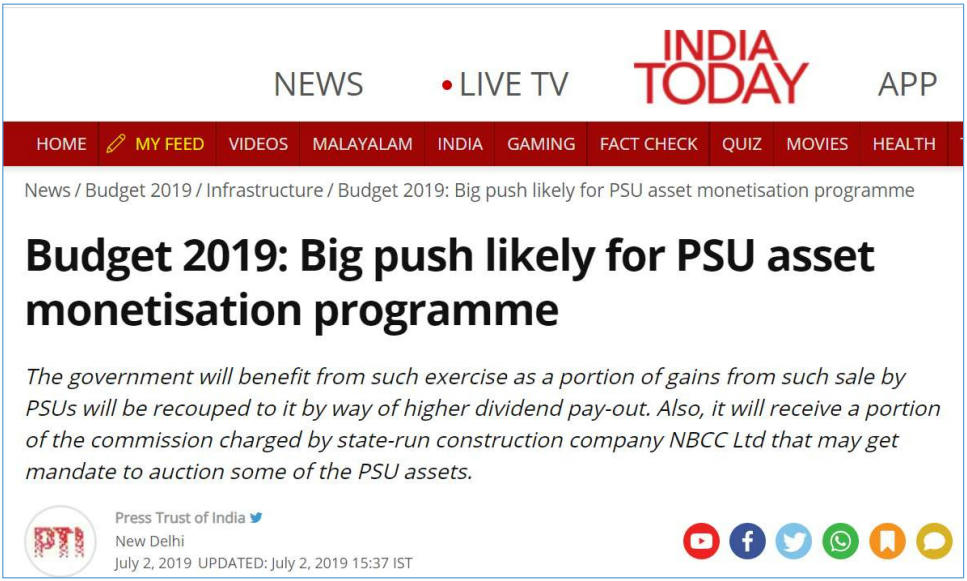 MONETISING PUBLIC INFRASTRUCTURE ASSETS DEVELOPMENT FINANCE INSTITUTION
CAPITAL EXPENDITURE
Monetising public infrastructure assets is an important financing option for new infrastructure construction, Finance Minister Nirmala Sitharaman had said in her budget speech on 1 February.
The speech had also pointed out how along with asset monetisation, the government will build institutions like a development finance institution and allocate more money for capital expenditure as part of its ambitious National Infrastructure Pipeline.
MONETISING PUBLIC INFRASTRUCTURE ASSETS IN OTHER AREAS
The government is planning to use options like investment trusts or InvIT sponsored by National Highways Authority of India and Power Grid Corp of India Ltd separately for monetising road and power transmission assets.
MONETISING PUBLIC INFRASTRUCTURE ASSETS IN OTHER AREAS
The railway dedicated freight corridor assets, airports, operational toll roads, oil and gas pipelines of state owned firms and warehousing assets like those of NAFED and Central Warehousing Corporation are proposed to be monetised too.