DESTRUCTION IN INDONESIA
More than 220 people have been killed and 843 injured after a tsunami hit coastal towns on Indonesia's Sunda Strait The tsunami waves struck at night without any warning, destroying hundreds of buildings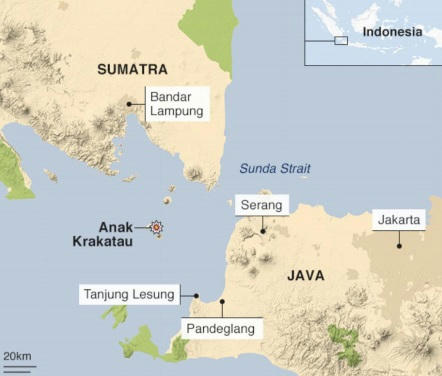 CAUSES
The tsunami which struck the island on Saturday evening was caused by an undersea landslide resulting from volcanic eruption of Anak Krakatau, a volcanic island formed over years from the nearby Krakatau volcano. It was exacerbated by abnormally high tide because of the current full moon situation
ANALYSIS
A combination of the underwater landslides with volcanic eruption caused the tsunami. 'Angry' Indonesia Volcano "Child Of Krakatoa" Anak Krakatoa Anak Krakatoa emerged around 1928 in the caldera of Krakatoa, a volcanic island that violently erupted in 1883.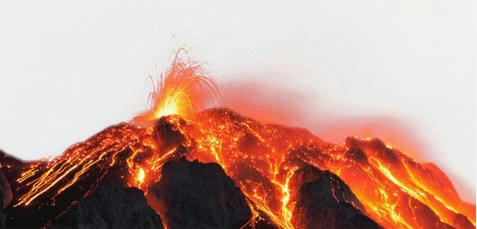 NOTES
Krakatoa was quiet until December 1927, when a new eruption began on the seafloor along the same line as the previous cones. In early 1928 a rising cone reached sea level, and by 1930 it had become a small island called Anak Krakatau ("Child of Krakatoa").
NOTES
When Krakatoa erupted on August 27, 1883 it shot a column of ash more than 20 kilometres (12 miles) into the air in a series of powerful explosions that were heard in Australia and up to 4,500 kilometres away near Mauritius.
The massive cloud of ash plunged the area into darkness for two days. The dust gave rise to spectacular sunsets and sunrises around the world the following year and disrupted weather patterns for years.
The tsunami triggered by the eruption killed more than 36,000 people in one of the world's worst natural disasters.
ANOTHER VOLCANO YOU SHOULD KNOW ABOUT
Central Indonesia's Mount Soputan volcano erupted on 16th December 2018, sending ash about 7.5 km high in the sky. Mount Soputan erupted twice on the same day, forcing local residents to move to safer places. Mount Soputan volcano is one of the most active volcanoes of Indonesia. it is located on the Sulawesi island in Indonesia.