TRIANGLE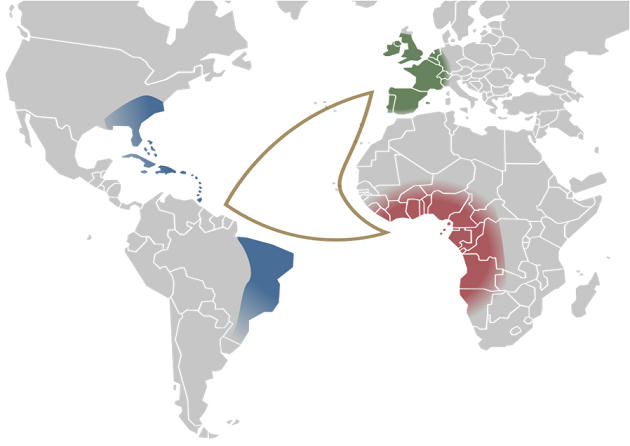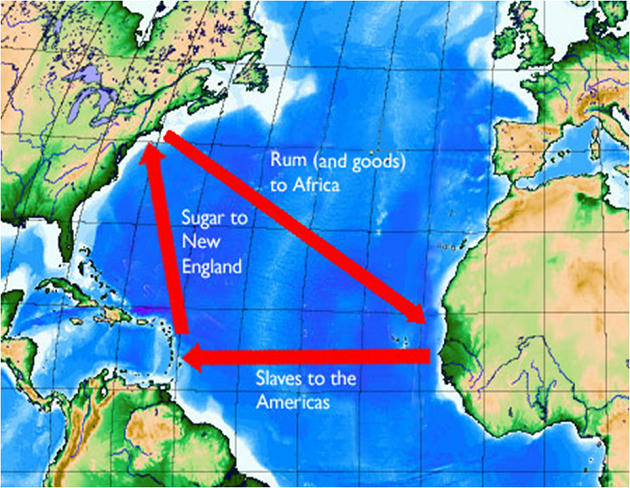 MIDDLE PASSAGE
The Middle Passage was the stage of the triangular trade in which millions of Africans were forcibly transported to the New World as part of the Atlantic slave trade.
Ships departed Europe for African markets with manufactured goods, which were traded for purchased or kidnapped Africans, who were transported across the Atlantic as slaves; the slaves were then sold or traded for raw materials, which would be transported back to Europe to complete the voyage.
MIDDLE PASSAGE
European powers such as Portugal, Britain, Spain, France, the Netherlands, Denmark–Norway, Sweden, and Brandenburg, as well as traders from Brazil and North America, took part in this trade.
An estimated 15% of the Africans died at sea.For two hundred years, 1440–1640, Portuguese slavers had a near monopoly on the export of slaves from Africa.
During the 18th century, when the slave trade transported about 6 million Africans, British slavers carried almost 2.5 million.
MIDDLE PASSAGE
The duration of the transatlantic voyage varied widely, from one to six months depending on weather conditions.
It is believed that African kings, warlords and private kidnappers sold captives to Europeans who held several coastal forts.
The captives were usually force-marched to these ports along the western coast of Africa, where they were held for sale to the European or American slave traders.
Typical slave ships contained several hundred slaves with about 30 crew members.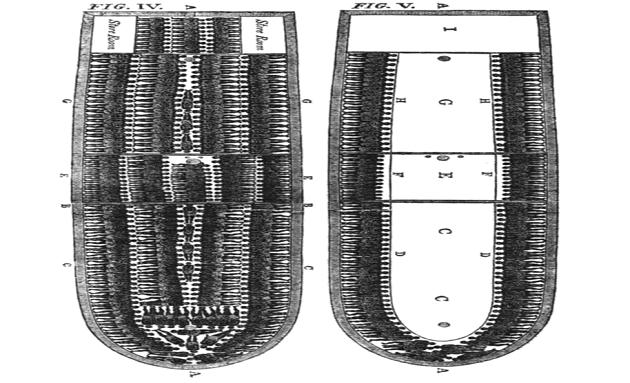 MIDDLE PASSAGE
The male captives were normally chained together in pairs to save space; right leg to the next man's left leg — while the women and children may have had somewhat more room.
Disease spread and ill health was one of the biggest killers. Mortality rates were high, and death made these conditions below the decks even worse.
Most contemporary historians estimate that between 9.4 and 12 million Africans arrived in the New World.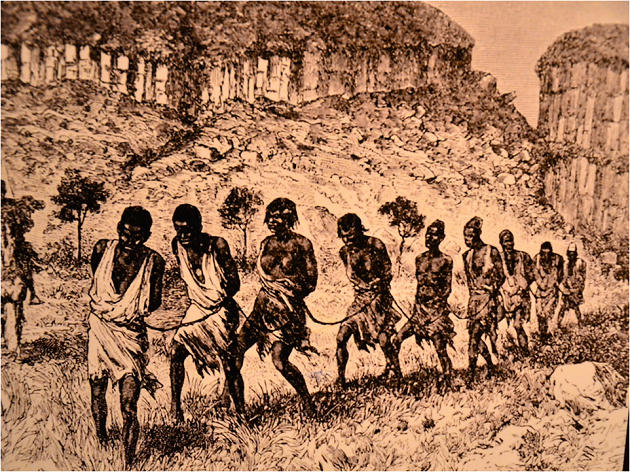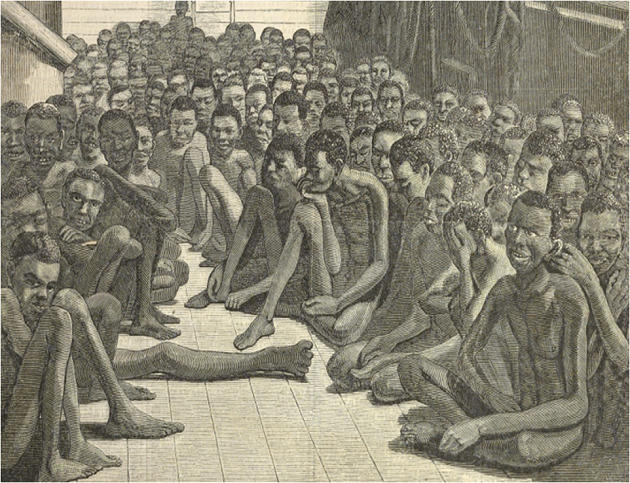 MIDDLE PASSAGE
Slaves' treatment was horrific because the captured African men and women were considered less than human; they were "cargo", or "goods", and treated as such; they were transported for marketing.
While slaves were generally kept fed and supplied with drink as healthy slaves were more valuable, if resources ran low on the long, unpredictable voyages, the crew received preferential treatment.
The worst punishments were for rebelling; in one instance a captain punished a failed rebellion by killing one involved slave immediately, and forcing two other slaves to eat his heart and liver.
MIDDLE PASSAGE
Slaves resisted in many ways. The two most common types of resistance were refusal to eat and suicide. Suicide was a frequent occurrence, often by refusal of food or medicine or jumping overboard, as well as by a variety of other opportunistic means.
Aboard ships, the captives were not always willing to follow orders. Sometimes they reacted in violence. Slave ships were designed and operated to try to prevent the slaves from revolting.
Resistance among the slaves usually ended in failure and participants in the rebellion were punished severely. About one out of ten ships experienced some sort of rebellion.