NOTES
The Time History of Events and Macroscale Interactions during Substorms (THEMIS) mission began in February 2007 as a constellation of five NASA satellites (THEMIS A through THEMIS E) to study energy releases from Earth's magnetosphere known as substorms, magnetic phenomena that intensify auroras near Earth's poles.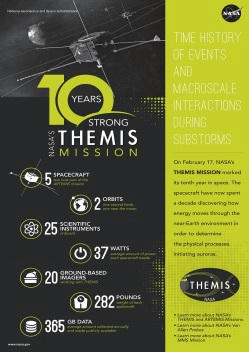 AURORAS
WHAT JUST HAPPENED RECENTLY?
NASA's Voyager 2 probe is approaching interstellar space and has detected an increase in cosmic rays that originate outside our solar system
WHAT IS INTERSTELLAR SPACE?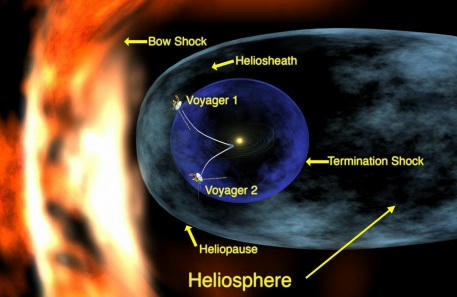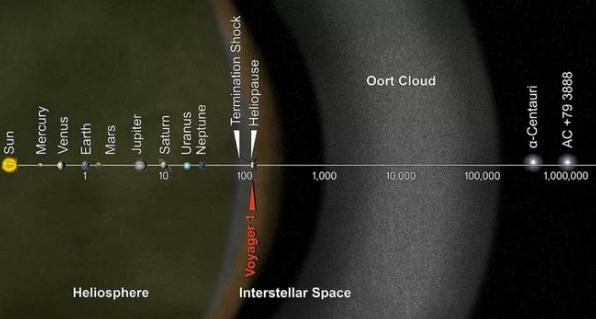 HELIOPAUSE AND HELIOSPHERE
The heliosphere is the bubble-like region of space dominated by the Sun, which extends far beyond the orbit of Pluto. Plasma "blown" out from the Sun, known as the solar wind, creates and maintains this bubble against the outside pressure of the interstellar medium, the hydrogen and helium gas that permeates the Milky Way Galaxy.
 NOTES
Once Voyager 2 exits the heliosphere, it will become the second human-made object, after Voyager 1, to enter interstellar space.
 VOYAGER PROGRAM – NASA'S LONGEST MISSION
The Voyager program is an American scientific program that employs two robotic probes, Voyager 1 and Voyager 2, to study the outer Solar System
The probes were launched in 1977 to take advantage of a favourable alignment of Jupiter, Saturn, Uranus and Neptune. Although their original mission was to study only the planetary systems of Jupiter and Saturn, Voyager 2 continued on to Uranus and Neptune.
NOTES
These are some of the Voyager program's achievements while the spacecraft were still flying past the planets, according to NASA
Examined Jupiter's atmosphere, including its hurricanes.
Found active volcanoes on Io, a moon of Jupiter, as well as a "torus" (a ring of sulfur and oxygen that Io is shedding).
Saw evidence of an ocean beneath Europa, an icy moon of Jupiter.
NOTES
Looked in detail at Saturn's rings; observed waves, structure and "shepherd moons" that influence the shape of its F-ring.
Saw evidence of an atmosphere around Titan, a moon of Saturn, which scientists correctly identified as being composed largely of methane.
Discovered a Great Dark Spot on Neptune, which is a large storm.
Saw active geysers on Triton, an icy moon of Neptune
VOYAGER PROGRAM'S LEGACY
Both Voyager spacecraft carry recorded messages from Earth on golden phonograph records — 12-inch, gold-plated copper disks. A committee chaired by the late astronomer Carl Sagan selected the contents of the records for NASA.
The "Golden Records," as these records are called, are cultural time capsules that the Voyagers bear with them to other star systems. They contain images and natural sounds, spoken greetings in 55 languages and musical selections from different cultures and eras.