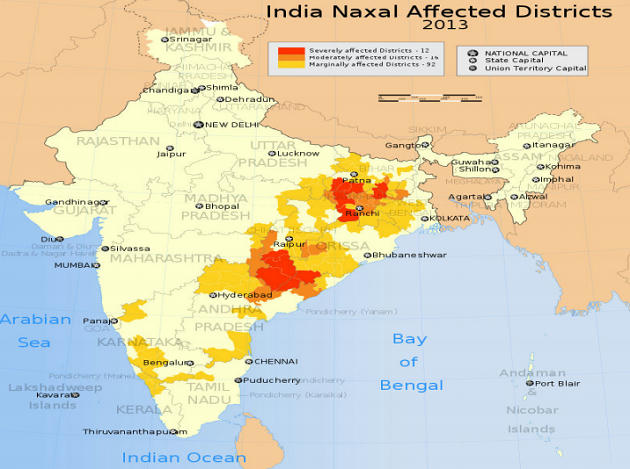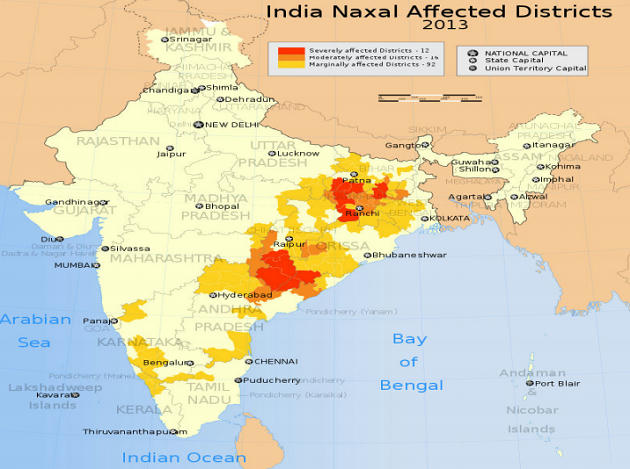 HISTORY
As of April 2018, the areas where Naxalites are most visibleareAndhraPradesh,Bihar,Chhattisgarh,Jharkhand, Maharashtra,Odisha,Telangana.
By July 1948, 2,500 villages in the south were organised into 'communes' as part of a peasant movement which came to be known as Telangana Struggle.
The term Naxalites comes from Naxalbari, a small village in West Bengal, where a section of the Communist Party of India (Marxist) (CPI-M) led by Charu Majumdar ,Kanu Sanyal, and Jangal Santhal initiated an uprising in 1967.
HISTORY
Communist leader Charu Majumdar wrote various articles based on Marx-Lenin-Mao thought during the period, which later came to be known as 'Historic Eight Documents' and formed the basis of naxalite movement.
The CPI (M)-led United Front government cracked down on the uprising and in 72 days of the "rebellion" a police sub-inspector and nine tribals were killed. The Congress govt at the Centre supported the crackdown. The incident echoed throughout India and naxalism was born.
HISTORY
In November 1967, this group, led by Sushital Ray Chowdhury organised the All India Coordination Committee of Communist Revolutionaries(AICCCR).
Violent uprisings were organised in several parts of the country. On 22 April 1969 (Lenin's birthday), the AICCCR gave birth to the Communist Party of India (Marxist–Leninist) (CPI (ML)).
The early 1970s saw the spread of Naxalism to almost every state in India, barring Western India.
HISTORY
May 11 ,1969 The first CPI (ML) congress is held in Calcutta under strict underground conditions. Comrade Charu Majumdar is elected the party general secretary.
Majumdar, to entice more students into his organisation, declared that revolutionary warfare was to take place not only in the rural areas as before, but now everywhere and spontaneously.
Majumdar declared an "annihilation line", a dictum that Naxalites should assassinate individual "class enemies" (such as landlords, businessmen, university teachers, police officers, politicians of the right and left) and others.
OPERATION STEEPLE CHASE
Charu Majumdar is arrested in Calcutta on July 16. He dies in Lal Bazar police lock-up on July 28. Revolutionary struggle suffers serious debacle. CPI (ML)'s central authority collapses.
In July 1971, Indira Gandhi took advantage of President's rule to mobilise the Indian Army against the Naxalites and launched a colossal combined army and police counter-insurgency operation, termed "Operation Steeplechase," killing hundreds of Naxalites and imprisoning more than 20,000 suspects and cadres, including senior leaders.
HISTORY
Fresh guerrilla struggles backed by mass activism emerge in parts of central Bihar and Telangana, now a part of Andhra Pradesh in 1973.
From April to June 1979, Village Campaign was for the first time organised jointly by RSU and RYL in Andhra Pradesh. The two organisations also expressed solidarity with National Movement of Assam.
CPI (ML) 1984 and other revolutionaries try to woo Sikhs towards joining peasant movement following Operation Bluestar in June and country-wide anti-Sikh riots after Indira Gandhi's assassination in Oct 31 the same year.
HISTORY
Between 2002 and 2006, over three thousand people had been killed in Naxalite-Government conflicts, and by 2009, the conflict had displaced 350,000 members of tribal groups from their ancestral lands.
Their growing influence prompted Indian Prime Minister Manmohan Singh to declare them to be the most serious internal threat to India's national security.
In February 2009, the Indian Central government announced a new nationwide initiative, to be called the "Integrated Action Plan" (IAP) for broad, co-ordinated operations aimed at dealing with the Naxalite problem in all affected states (namely Karnataka, Chhattisgarh, Odisha, Andhra Pradesh, Telangana, Maharashtra, Jharkhand, Bihar, Uttar Pradesh, and West Bengal).