RAJIV GANDHI'S BHARAT RATNA ROW
The Delhi Assembly on Friday, 21 December had adopted a resolution on the 1984 anti-Sikh riots in which it was reportedly demanded that Bharat Ratna awarded to former prime minister Rajiv Gandhi be withdrawn, but the AAP swiftly distanced itself from the reference to the former prime minister.
HOW A RESOLUTION IS PASSED
A resolution is essentially a proposal, which can be moved by any member of the House or the government, drafted in a manner which conveys the decision of the House on any subject. Resolutions moved by private members are called Private Members' Resolutions, and those moved by Ministers are called Government Resolutions.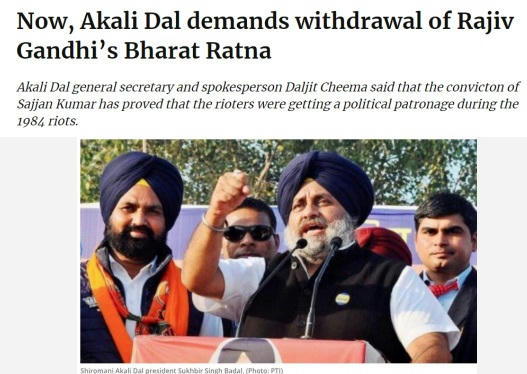 BHARAT RATNA
The highest civilian award of the Republic of India. Instituted in 1954, the award is conferred "in recognition of exceptional service/performance of the highest order", without distinction of race, occupation, position, or sex.
 BHARAT RATNA
The recommendations for the Bharat Ratna are made by the Prime Minister to the President, with a maximum of three nominees being awarded per year. The first recipients of the Bharat Ratna were politician C. Rajagopalachari
RAJIV GANDHI
Rajiv Gandhi, who took over the reins of the party and the government following his mother's demise, was posthumously awarded Bharat Ratna, the country's highest civilian award, in 1991.
SOME FACTS
Subhash Chandra Bose was awarded with Bharat Ratna posthumously in 1992. But due to controversy (as there is no evidence of Subhash Chandra Bose\'s death) his family refused to accept the award. It is the only incident in the history of Bharat Ratna that an award was withdrawn.
Khan Abdul Ghaffar Khan (1987) And Nelson Mandela (1990) are two non Indians of Bharat Ratna Award Winners.
Mother Teresa was the first naturalized Indian citizen of Bharat Ratna Award Winner in 1980.
SHOULD AWARDS BE WITHDRAWN?
If Rajiv Gandhi's award is withdrawn then won't it open Pandora's box?
Atal Bihari Vajpayee – 2015 Bharat Ratna Awardee – was prime minister when 2002 Gujarat riots happened