TIPU SULTAN
PART – 1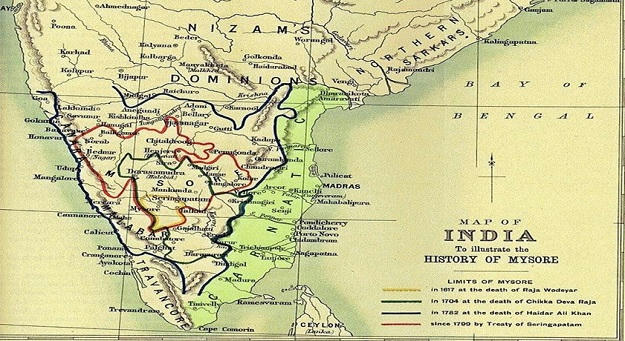 ANGLO MYSORE WARS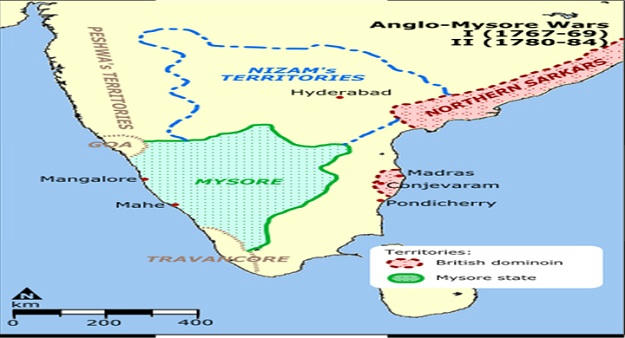 ANGLO MYSORE WARS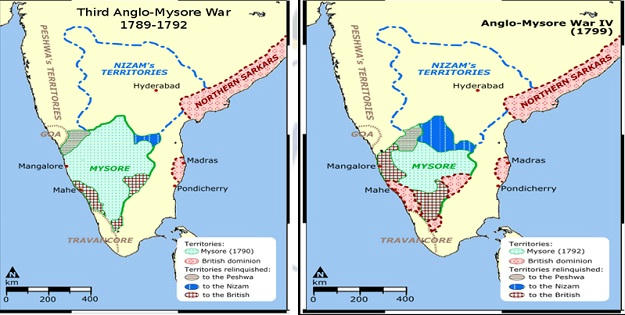 CHILDHOOD
Tipu Sultan was born on 20 November 1750 at Devanahalli,in presentday Bangalore Rural district, about 33 km (21 mi) north of Bangalore city. He was named "Tipu Sultan" after the saint Tipu Mastan Aulia of Arcot.
Being illiterate, Hyder was very particular in giving his eldest son a prince's education and a very early exposure to military and political affairs. From the age of 17 Tipu was given independent charge of important diplomatic and military missions. He was his father's right arm in the wars from which Hyder emerged as the most powerful ruler of southern India.
Tipu's father, Hyder Ali, was a military officer in service to the Kingdom of Mysore who had become the de facto ruler of Mysore in 1761 while his mother Fatima Fakhr-un-Nisa was the daughter of Mir Muin-ud-Din, the governor of the fort of Kadapa.
Hyder Ali appointed able teachers to give Tipu an early education in subjects like Urdu, Persian, Arabic, Kannada, Quran, Islamic jurisprudence, riding, shooting and fencing
 MILITARY
Tipu Sultan was instructed in military tactics by French officers in the employment of his father. At age 15, he accompanied his father against the British in the First Mysore War in 1766.
He commanded a corps of cavalry in the invasion of Carnatic in 1767 at age 16. He also distinguished himself in the First AngloMaratha War of 1775–1779
SECOND ANGLO MYSORE WAR(1780-84)
In 1779, the British captured the French-controlled port of Mahé, which Tipu had placed under his protection, providing some troops for its defence.
In response, Hyder launched an invasion of the Carnatic, with the aim of driving the British out of Madras.
In the Battle of Pollilur, Tipu decisively defeated British. Out of 360 Europeans, about 200 were captured alive, and the sepoys, who were about 3800 men, suffered very high casualties.
Hector Munro was moving south with a separate force to join Baillie, but on hearing the news of the defeat he was forced to retreat to Madras, abandoning his artillery in a water tank at Kanchipuram
 TREATY OF MANGALORE
Tipu Sultan defeated Colonel Braithwaite at Annagudi near Tanjore on 18 February 1782. Tipu Sultan seized all the guns and took the entire detachment prisoner.
In December 1781 Tipu Sultan successfully seized Chittur from the British. Tipu Sultan had thus gained sufficient military experience by the time Hyder Ali died on Friday, 6 December 1782.
Tipu Sultan realised that the British were a new kind of threat in India. He became the ruler of Mysore on Sunday, 22 December 1782 in a simple coronation ceremony.
He then worked on to check the advances of the British by making alliances with the Marathas and the Mughals. The Second Mysore War came to an end with the 1784 Treaty of Mangalore.
RULER OF MYSOREN AND MARATHA
The Maratha Empire, under its new Peshwa Madhavrao I, regained most of Indian subcontinent, twice defeating Tipu's father, who was forced to accept Maratha Empire as the supreme power in 1764 and then in 1767.
In 1767 Maratha Peshwa Madhavrao defeated both Hyder Ali and Tipu Sultan and entered Srirangapatna, the capital of Mysore. Hyder Ali accepted the authority of Madhavrao who gave him the title of Nawab of Mysore.
However Tipu Sultan wanted to escape from the treaty of Marathas and therefore tried to take some Maratha forts in Southern India, which were captured by Marathas in the previous war.
Tipu also stopped the tribute to Marathas which was promised by Hyder Ali.This brought Tipu in direct conflict with the Marathas, leading to Maratha–Mysore War
 

MARATHA vs TIPU SULTAN
Conflicts between Mysore (under Tipu) and Marathas:
Siege of Nargund during February 1785 won by Mysore
Siege of Badami during May 1786 in which Mysore surrendered
Siege of Adoni during June 1786 won by Mysore
Battle of Gajendragad, June 1786 won by Marathas
Battle of Savanur during October 1786 won by Maysore
Siege of Bahadur Benda during January 1787 won by Maysore
Conflict ended with Treaty of Gajendragad in March 1787, as per which Tipu returned all the territory captured by Hyder Ali to Maratha Empire. Tipu agreed to pay four year arrears of tribute which his father Hyder Ali had agreed to pay to Maratha Empire (4.8 million rupees), The Marathas agreed to address Tipu sultan as "Nabob Tipu Sultan Futteh Ally Khan.
THIRD ANGLO MYSORE WAR(1790-92)
In December 1789 he massed troops at Coimbatore, and on 28 December made an attack on the lines of Travancore, knowing that Travancore was (according to the Treaty of Mangalore) an ally of the British East India Company.
On account of the staunch resistance by the Travancore army, Tipu was unable to break through the Tranvancore lines and the Maharajah of Travancore appealed to the East India Company for help.
 In response, Lord Cornwallis mobilised company and British military forces, and formed alliances with the Marathas and the Nizam of Hyderabad to oppose Tipu.
In 1790 the company forces advanced, taking control of much of the Coimbatore district. Tipu counterattacked, regaining much of the territory
TREATY OF SERINGAPATNAM
In 1791 his opponents advanced on all fronts, with the main British force under Cornwallis taking Bangalore and threatening Srirangapatna
The 1792 campaign was a failure for Tipu. The allied army was well-supplied, and Tipu was unable to prevent the junction of forces from Bangalore and Bombay before Srirangapatna.
After about two weeks of siege, Tipu opened negotiations for terms of surrender. In the ensuing treaty of seringapatnam, he was forced to cede half his territories to the allies, and deliver two of his sons as hostages until he paid in full three crores and thirty lakhs rupees fixed as war indemnity to the British for the campaign against him.
TIPU SULTAN
PART – 2
ANGLO MYSORE WARS
FOURTH ANGLO MYSORE WAR(1799) AND DEATH
Horatio Nelson defeated François-Paul Brueys D'Aigalliers at the Battle of the Nile in Egypt in 1798. Three armies marched into Mysore in 1799—one from Bombay and two British, one of which included Arthur Wellesley.
They besieged the capital Srirangapatna in the Fourth Mysore War. There were more than 26,000 soldiers of the British East India Company, approximately 4,000 Europeans and the rest Indians.
A column was supplied by the Nizam of Hyderabad consisting of ten battalions and more than 16,000 cavalry, and many soldiers were sent by the Marathas. Thus, the soldiers in the British force numbered more than 50,000, whereas Tipu Sultan had only about 30,000.
The British broke through the city walls, and French military advisers told Tipu Sultan to escape via secret passages, but he replied, "Better to live one day as a tiger than a thousand years as a sheep". Tipu Sultan died defending his capital on 4 May.
 ROCKETS
Dr APJ Abdul Kalam, the former President of India, in his Tipu Sultan Shaheed Memorial Lecture in Bangalore (30 November 1991), called Tipu Sultan the innovator of the world's first war rocket.
Two of these rockets, captured by the British at Srirangapatna, were displayed in the Royal Artillery Museum in London. Tipu managed to subdue all the petty kingdoms in the south. He defeated the Nizams and was also one of the few Indian rulers to have defeated British armies
Tipu Sultan's father had expanded on Mysore's use of rocketry, making critical innovations in the rockets themselves and the military logistics of their use. He deployed as many as 1,200 specialised troops in his army to operate rocket launchers.
Tipu greatly expanded the use of rockets after Hyder's death, deploying as many as 5,000 rocketeers at a time. The rockets deployed by Tipu during the Battle of Pollilur were much more advanced than British East India.
ECONOMIC POLICY
The peak of Mysore's economic power was under Tipu Sultan in the late 18th century. Along with his father Hyder Ali, he embarked on an ambitious program of economic development, aiming increase the wealth and revenue of Mysore.
Under his reign, Mysore overtook Bengal Subah as India's dominant economic power, with highly productive agriculture and textile manufacturing.Mysore's average income was five times higher than subsistence level at the time.
ECONOMIC POLICY
The Mysore silk industry was first initiated during the reign of Tipu Sultan. He sent an expert to Bengal Subah to study silk cultivation and processing.
Under Tipu Sultan, Mysore had some of the world's highest real wages and living standards in the late 18th century, higher than Britain, which in turn had the highest living standards in Europe.
Mysore's average per-capita income was five times higher than subsistence level.In comparison, the highest national percapita incomes in 1820 were $1,838 for the Netherlands and $1,706 for Britain
RELIGIOUS POLICY
On a personal level, Tipu was a devout Muslim, saying his prayers daily and paying special attention to mosques in the area. As a Muslim ruler of a predominantly Hindu country, some of his policies have evoked controversy.
The mainstream view considers Tipu's administration to have been tolerant.Regular endowments were made during this period to about 156 Hindu temples,including the famed Ranganathaswami Temple at Srirangapatna
His religious legacy has become a source of considerable controversy in India, with some groups proclaiming him a great warrior for the faith or Ghazi, while others revile him as a bigot who massacred Hindus,Christians.
SWORD AND TIGER
Tipu Sultan had lost his sword in a war with the Nairs of Travancore during the Battle of the Nedumkotta (1789), in which he was forced to withdraw due to the severe joint attack from Travancore army and British army.
The Nair army under the leadership of Raja Kesavadas again defeated the Mysore army near Aluva. The Maharaja, Dharma Raja, gave the famous sword to the Nawab of Arcot, from whom the sword was taken away forcibly by the British after annexing Arcot and sent to London. The sword was on display at the Wallace Collection, No. 1 Manchester Square, London.
Tipu was commonly known as the Tiger of Mysore and adopted this animal as the symbol (bubri/babri) of his rule. He even had French engineers build a mechanical tiger for his
The last sword used by Tipu in his last battle, at Sri Rangapatnam, and the ring worn by him were taken by the British forces as war trophies. Till April 2004, they were kept on display at the British Museum Londo.It was purchased for £98,500 by a telephone bidder.